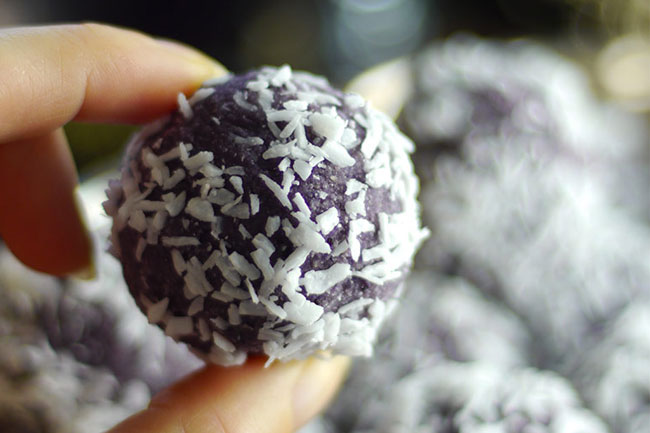 Blueberry Bliss Balls are the perfect way to satisfy your sweet tooth, simple, delicious and free from gluten, grains, dairy, egg and refined sugar. I hope you enjoy them as much as we do.
BLUEBERRY COCONUT BLISS BALLS
Prep time:  15 MINS
Ready in:  15 MINS
Makes: 13 – 14 BALLS (even more if you make them smaller)
INGREDIENTS
1 cup blueberry jam ( I used Beerenberg's Blueberry Jam – made in Australia with Australian blueberries because that's what I had on hand, but of course this would work beautifully with raspberries, strawberries, cherries… mmm…the possibilities! )
1¼ cup coconut flour
¼ cup maple syrup
¼ cup unsweetened milk (almond milk or a nut-free milk of your choice)
¼ tsp salt
½ cup shredded unsweetened coconut for rolling
INSTRUCTIONS
Process all ingredients, except shredded coconut, in a food processor into a uniform mixture. Allow it to sit for a minute. Meanwhile spread the shredded coconut on a plate.
Use a 1 tbsp scoop or just pick out even amounts of the dough with your hands and roll the mixture into balls. Roll each ball in the shredded coconut and set aside. Let them rest a few minutes and enjoy fresh or chilled! (We enjoy ours refrigerated).
(Recipe by:  Unconventional Baker)
All of us hanker after a nibble or two during our day, but they are not always healthy.  I came across the "Bliss Ball recipes", oh my, they are so simple to make, you can enjoy them throughout the day, all the while knowing they are low in calories, sugar and saturated fats.  Even the grand kids really enjoy making them and of course sampling the finished product.  The best part is their Mum's approve!! We are hooked.